For all questions concerning: 

your orders
functioning our site

special requests.


Feel free to contact us by: info(at)royalcaviar.com or: +352 51 45 79.
Ordering
Nothing is easier than to order:
+ subscribe to our site (this step is not essential but allows to record your contact information)
+ you will receive an email confirming your registration and password
+ identify yourself on our site using your credentials
+ navigate among different products and add them to your basket
+ you can see the basket and modify you order throughout the operation
+ when finished, place your order and follow the instructions (delivery and payment)
+ you will then receive a confirmation email
Minimum order excluding the transport is € 49 in total.
Payment
Several payment options are available.
secure online payment by credit card on Paypal
secure payment by Paypal or Payplug

Secure online payment with Paypal or Payplug

Place your order on the site by choosing payment by PAYPAL or Payplug.

On this platform you can pay your order by credit card, Visa or Mastercard, American Express, with our without Paypal account.
In fact, it is possible to pay by credit card on Paypal without creating a Paypal account first.  Your personal information is stored on Paypal servers and will be highly protected both physically and electronically.
To help protect your credit card and bank account numbers, Paypal servers protected by firewalls, are not directly connected to the internet.
A minimum of € 49 excluding transport is necessary to confirm your order.
Shipping
Your orders will be prepared upon receipt and shipped the same day if we receive it before 12 A.M. The parcel is lifted by the carrier, and delivered in 24/48 hours to your destination.
Upon request by mail to info@royalcaviar.com, we can send you a tracking number.
To guarantee maximum freshness, we ship your packages Monday through Thursday.
Orders received after 12 P.M. Thursday will be processes the following Monday.
If you are not available at delivery time, a calling card will be left. You will be asked to contact them to arrange a new delivery.
Your package will be delivered against a signature.
Should a delivery not be possible we would contact you as soon as possible.
Conservation
Conservation and freshness of the caviar are secured best, respecting the following hints:
After receiving your order, our caviar tins can be stored for 12 weeks in refrigerator without being opened. Once opened, consume within 2 days.
The fish eggs will keep 6 months in refrigerator before opening and are to be consumed within one week after opening.
Some hints on caviar
How to recognize a good caviar ?
Grain should not be crushed. Should have a uniform color
Grains should be fluid and smooth, but not oily
The caviar is simply taken with :
toast,
blinis,
bread
by itself
Accompanying :
Please visit our recipes around caviar !
Related Beverage
Caviar is best served accompanied by:
Champagne
Vodka
White wine,
…
For more info, go to our tasting tips page.
Traceability
Controlled and mandatory traceability of the product: CITES tags

Guaranteed Freshness
The various steps of processing your order:
Filling caviar tin from the original tin
Closing by vacuum
Labeling of the product (type, expiry date, CITES …)
Placing the caviar tin in special thermal bags
Adding ice packs for proper conservation
Closing and sealing the thermal bag by special resistant tapes
Covering the bag with a black film to ensure total transport discretion
Closing with special tape reflecting the fragility of the goods inside
Strapping the package
Fixing labels necessary for delivery
The package is ready to be lifted for delivery to you as soon as possible.
Steps for preparing the shipping box: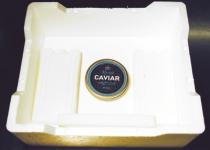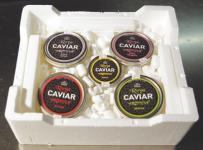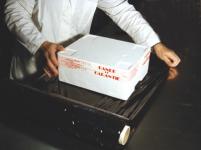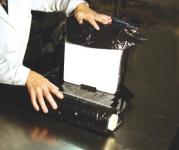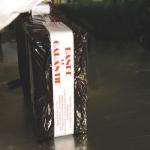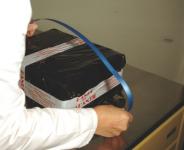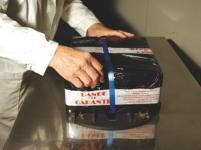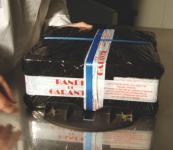 The fish
The two major groups of sturgeon are Acipenser (Oscietre or Sevruga) and Huso (Beluga). They are predators. Sturgeon is one of the last representatives of teleost fish or full frame to remind us of the original form of the fishes having populated the seas with no fish bones. Sturgeon should be a model for modern fish types which give us so much trouble inside the plates.
In total there are at least 20 different sturgeon varieties, 5 of them live in Caspian Sea out of which only 3 yield caviar.
Victims of their fame they would have been disappeared without CITES protection since 1988. CITES regulates the export of Caviar. In 2008 less than 10 tons were exported from Iran, Kazakhstan and Azerbaijan in total, vs 350 tons in 1990.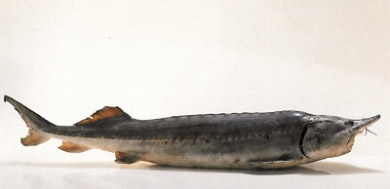 Beluga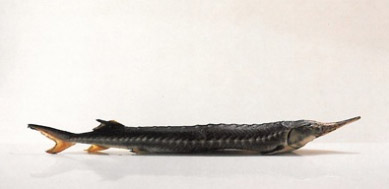 Sevruga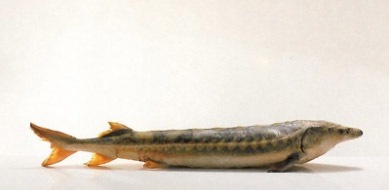 Asetra
Nutritional Values
Far from being only a delicacy, caviar has other advantages. It is been told, being aphrodisiac, and has unique qualities. Sevruga, for example, has the following composition:
water (51,5 %)
protein (28 %)
lipids (16 %)
carbohydrate (1,5 %)
vitamins and trace elements (3 %).
The caviar proteins consist of arginis, histidine, isoleucine, lysine, and methionine. It's lipids comprise 25 % of cholesterol against 75 % lecithin. It contains vitamins A, C, PP, B2, B4 and B12. Notwithstanding the follicular and pantothenic acid.